I discovered Morsbags from a magazine I picked up at the Birmingham Quilts Festival. I read an interview with the lady who founded Morsbags years ago in the UK. She created Morsbags as an organized way to replace plastic bags with washable, handmade bags made preferably from recycled fabrics. Morsbags have since spread around the world and there are more than 210,000 Morsbags out there. You can read more of the story at their website:
I made my first Morsbags out of a set of curtains sitting in my closet that didn't fit my windows. They are IKEA curtains with a lovely purple color and I had no idea what to do with that lump of fabric. I made 14 Morsbags from the one set of curtains! I then did a demo in my quilting group where I made up kits to give to my fellow quilters and did a demonstration of the Morsbag technique, sewing one Morsbag live. I gave out 30 kits in all, and I know I've inspired a few quilters. Morsbags make great gifts for Christmas.
Here's what my first cutting session looked like with those IKEA curtains: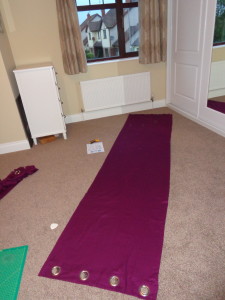 My display of Morsbags on the night of my live demonstration: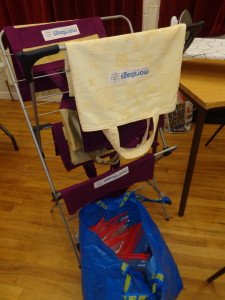 Now I have a new pile of fabric, mostly old curtains, ready to be made into Morsbags for Christmas gifts. I will be mailing them around the world to all my friends and family. I don't think any of them read my blog so I am not spoiling any surprise!