I finished my American Vision quilts today. These are two quilts that I started on the day Trump was elected. I was very surprised by the turn of events, as I had not been paying very close attention to the American election. So I turned on the radio and listened to endless radio commentary, both American and Irish, as I started piecing these quilts.
The majority of the patterned fabric is from an American friend of mine. She collected it over the years but never used it, she is a terrific friend and is the one who first introduced me to quilting. She said the fabric wouldn't be good for a single quilt as it's all quite unrelated. But that's perfect for this pattern – no two fabrics touch each other! Plus it's balanced out by the solid colored fabric, literally balanced 50/50 – quite like the American election.
The idea was to make one in plum color for her, as that's her favorite color, and one in turquoise for me, my favorite color. However, now that I see them together I don't think I'll be able to separate them. The question now is how to get them to her. I don't know if I can put them into the mail, I'd be too worried about them!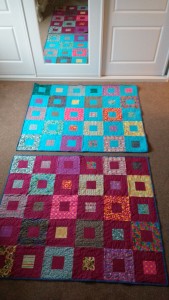 Some say quilts are like babies… so I suppose these are my first twins.